By Jennafer Ashley.
Paleo Hacks.
Mineral-rich raw honey, coconut, dark chocolate and almonds form a copycat Almond Joy with health benefits to boot.
While traditional candy bars are tempting and satisfying, they are too often filled with artificial flavors and preservatives. Luckily, Almond Joys are a favorite that's easy to transform into a healthy Paleo version with real foods.
BPA-free silicone candy molds are a must for creating candy, and they make serving treats super convenient with no need for slicing. If you don't have candy molds, this recipe can also be made in an 8x8 baking pan. Just cover the bottom with wax paper for easy removal.
Love Paleo Desserts? Then you'll love our FREE Paleo Dessert Cookbook.
Click here to get your FREE copy of this delicious Dessert Recipes Cookbook!
A dark chocolate base is swapped for traditional milk chocolate, amping up the antioxidant factor. To balance the slight bitterness of dark chocolate, raw honey gets mixed into the coconut layer. If you prefer a sweeter chocolate, stir in a teaspoon or two of stevia powder or pure maple syrup into the melted chocolate.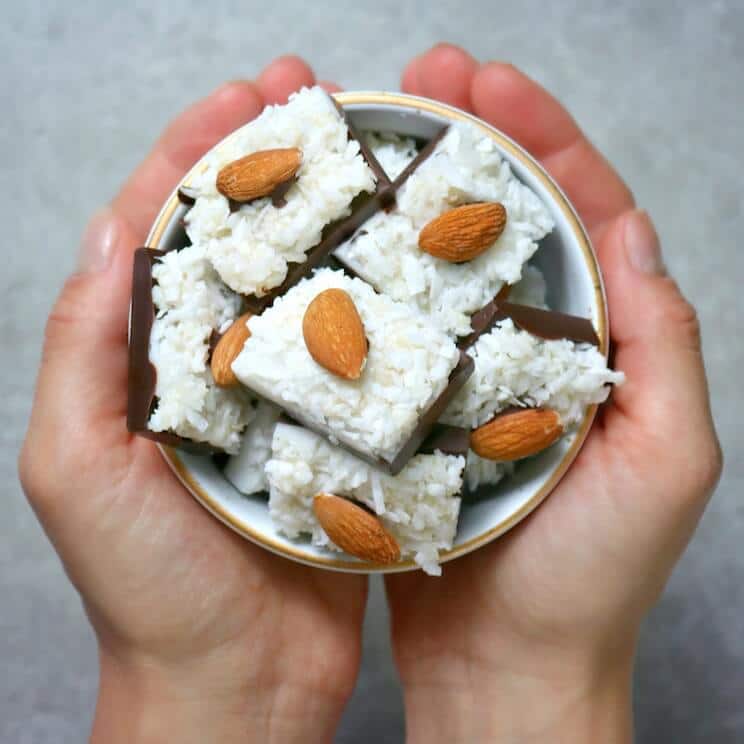 Total time: 40 Minutes
Cook Time: 10 Minutes
Prep Time: 15 Minutes
Servings: 12 Bars
Tools
- Mixing Bowl
- 0.5 oz Silicone Candy Molds (BPA-free). Or a 8x8 baking pan.
Ingredients
- 1 cup unsweetened dark chocolate chips
- 1 cup unsweetened coconut flakes
- 1/3 cup unrefined coconut oil
- 2 Tablespoons raw honey
- 12 almonds, unsalted
Instructions
- Start by melting chocolate chips in a double boiler until smooth.
- Spoon one teaspoon of chocolate into the candy molds.
- Place in the freezer for five minutes to lightly set. The chocolate should still be slightly pliable so that when you press the coconut layer on top, it forms to the chocolate.
- Reserve the remaining melted chocolate in the bowl for later.
- Combine the unsweetened coconut flakes, raw honey, and melted coconut oil into the mixing bowl, and stir well to moisten. The coconut oil acts like a glue, binding the chocolate and coconut layers.
- Spoon the coconut mixture over the chocolate layer in the molds, and gently but firmly press to form.
- Dip the backs of the almonds into the reserved chocolate, and set one on top of each bar.
- Place back into the freezer for 15 minutes to completely set.
- Pop the bars out of the molds and store in a refrigerator or a dry cool spot.
These healthy, homemade candies are a cinch to whip up in large batches.
For more delicious Paleo Desserts,
Click here to get your FREE copy of our Paleo Dessert Cookbook.
Hits: 36